At Your Paws Pet Services has been in business since December 2003. At Your Paws Pet Services provides quality in home pet sitting to Central New Hampshire. We are a full-time business dedicated to professional pet care services. We are fully insured and members of the Pet Sitters Associates, LLC.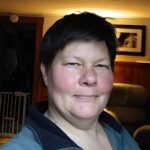 Kim Pease
Owner/President
Kim has grown up with animals around her. From infancy to teen years, her friends and playmates included the two family cats. As a child, Kim became introduced to dogs through the neighborhood dogs. The neighborhood dogs would come over to play on a regular basis. Leroy, a yellow lab, became a fixture waiting in the driveway every Monday evening after Girl Scouts. Growing up, she had a variety of other pets as well, hamsters, mice, chameleons and a bird. She helped care for a friend's horse as well. From there, her love of animals has continued to grow.

Kim resides with 4 dogs (2 Jack Russell Terrier, Mix and Border Collie), 2 cats, 2 Sheep, 1 horse (Beligan), 1 miniature horse and lots of bees. She has trained and competed in dog sports, Agility, Flyball and Disc Dogs. Kim was the captain of the Granite State Racers Flyball Club. She has taught and assisted in Flyball and Agility classes. Kim training style is to make it fun and positive for the handler and dog.